One of the main differences between a quality saw and a poor quality saw is the hardness of the steel. An economy saw is relatively soft and will not hold a cutting edge as long as a quality saw. In the day, manufactures went to great effort to make saws that would hold an edge as long as possible but could still be filed, set and swaged without any problems. Most vintage saws met that goal.
I was curious to see how saw steel would respond to normal tool steel heat treating operations so I jury rigged a Brinell hardness tester and did some testing. If the load on a hard ball, the diameter of the ball and the diameter of the dimple in the sample is known, the Brinell hardness number can be calculated. See the photo for details of my tester. I started with a section of crosscut saw and changed the hardness from the original condition to softer, to softer yet, to very hard and back to the original hardness again. I checked the Brinell hardness at each step and those results are indicated in the photos. The piece of saw I started with was cut off a serviceable saw and I would say it was about normal for a quality saw. That is, it filed fine and had no problems with setting or swaging the teeth. It was not too hard to sharpen and still held a cutting edge well.
I first checked the hardness of the original saw section. Then I tempered one area as may be done if a saw was too hard. The tempered area tested about 100 Brinell points softer then the original saw. The softer test was expected and it would follow that the softer metal would not hold a cutting edge as well as the original condition. What I do not know and have been interested in testing for is just how much of an effect the softer metal would have. Would the softer metal need sharpened twice as often? Would the saw wear out twice as fast? I don't know, that is another test.
After I tempered the blade section I intended to harden again. Depending on the type of tool steel, quenching with air, oil, brine or water can be used to harden. Not know how the saw steel would behave I first tired to quench with a blast of air from an air hose. I heated to a cherry red and cooled as quickly as possible with the air blast. It did not harden and came out considerably softer. Since my test sample was larger then a single tooth, it is possible that a smaller single tooth could be quenched and hardened with a blast of air. I don't know, I did not try it on a single tooth. I would call this stage of the sample as normalized. It was not as soft as a full anneal but softer then the previous step. The steel would have to be heated to a cherry red and cooled very very slowly to fully anneal it. I also tested another saw that has a section that I'd guess is fully annealed and it is about 175 Brinell points softer then this stage of the test section.
The next attempt at hardening was a water quench. That did the trick, it was harder then a file and it shattered during an attempted hardness test. I could cut it with a diamond hone but a file would not touch it.
The last step was tempering back to a condition that would be usable as a saw. This was tempered to about a blue color and that reduced the brittleness and increased the toughness. This left the steel about exactly as hard as the original saw. It could then be filed just as it could to begin with. With this sample I made a full circle, from normal hardness (735 BHM), to tempered softer (625 BHN), to normalized softer yet (476 BHN), to very hard (too brittle to test) and back to normal again (735 BHN).
So, what use could this be to saw filers? I can think of a few things. If a saw has been needlessly tempered to a soft condition or if a tooth has been replaced, the teeth could be re-hardened and tempered to a long lasting usable condition. If you have a saw like my "fire damaged" saw that is annealed dead soft in some teeth (see photos), it could be re-hardened and made to perform as new. Another possibility that is done with some competition saws is to set up a saw so it is just right and then heat treat so hard that you would maintain a razor sharp edge for many times longer then even a quality vintage saw. Some competition saws are hardened so hard that they can only be touched up with a diamond hone. If they need more work they have to be tempered/softened, reworked, re-hardened and then very slightly tempered to remove some of the brittleness. Wouldn't be nice to have a trail saw that would last five or ten seasons rather then one season?
The bottom line for crosscut saw filers is that for most saws there should be no need to do any heat treating. On rare occasions a saw will be found that is too hard and they can be tempered some to help out. On even rarer conditions where saw teeth need to be hardened or completely re-heat treated, that is possible too.
The Brinell hardness tester: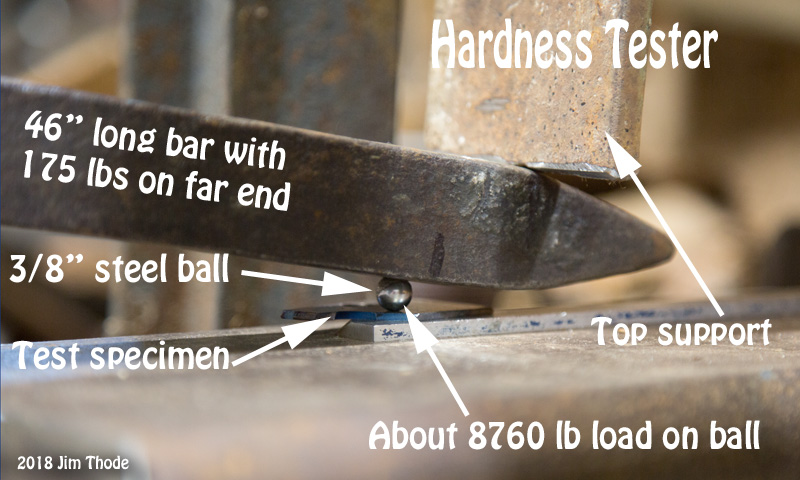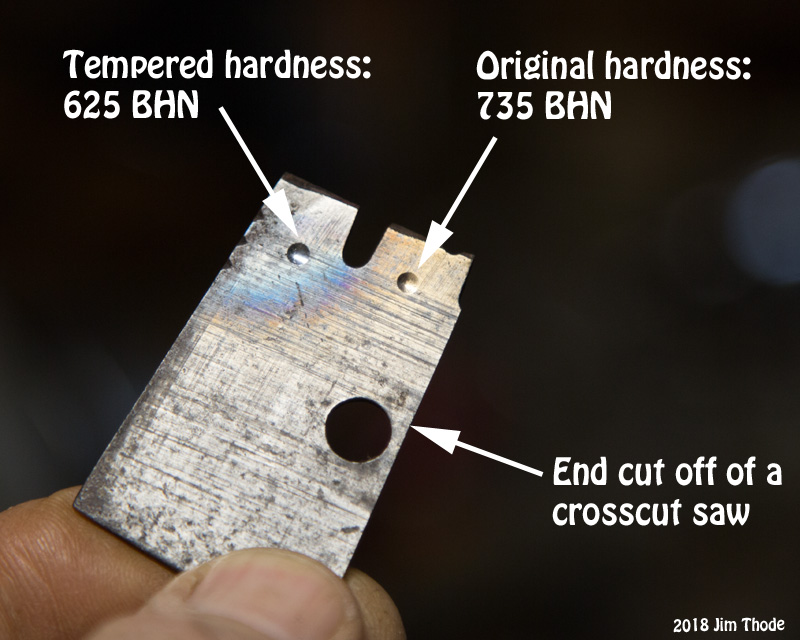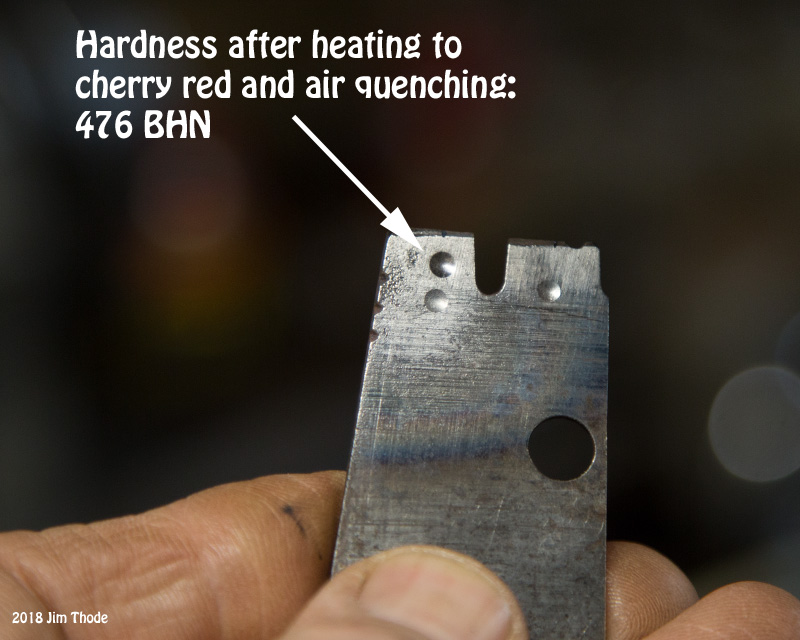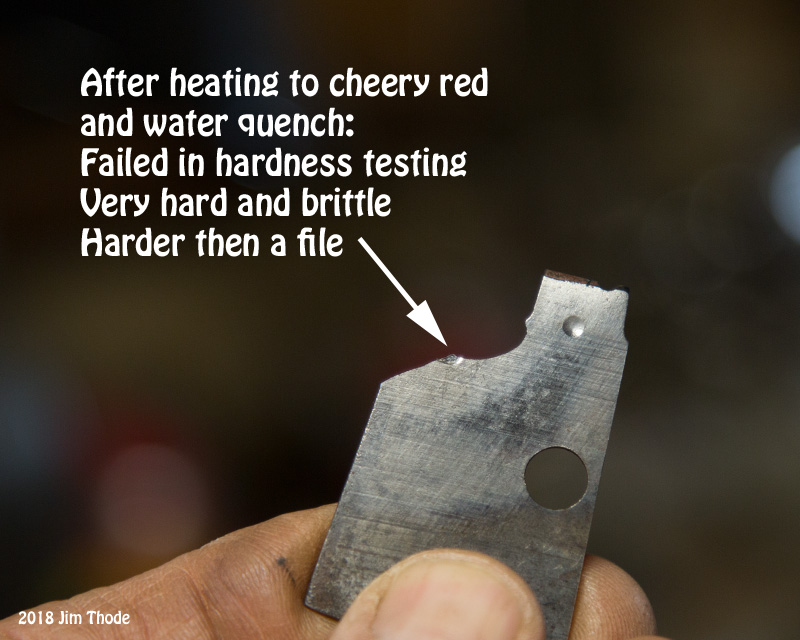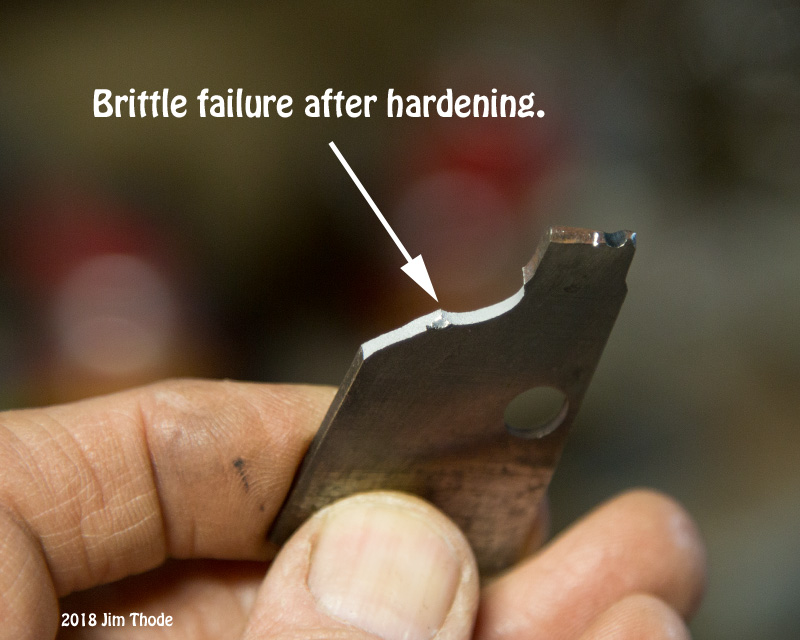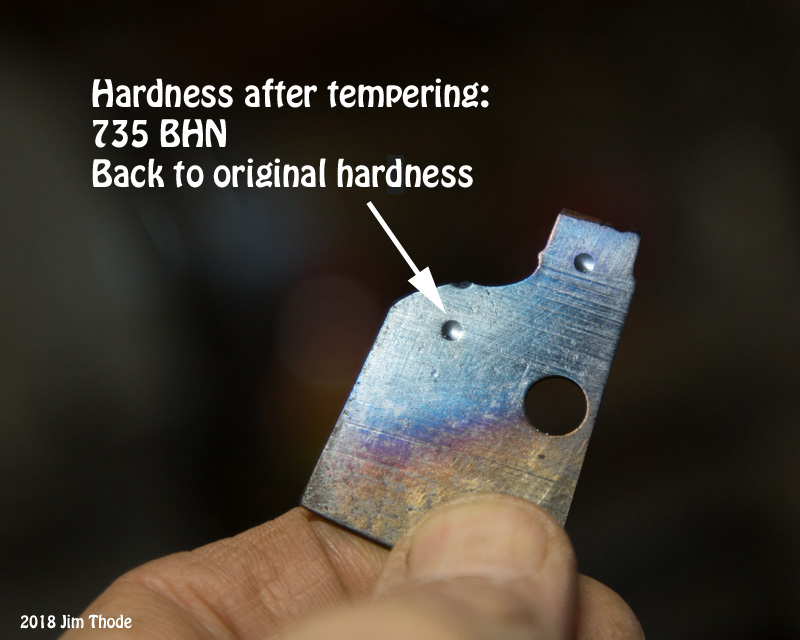 Fire damaged saw: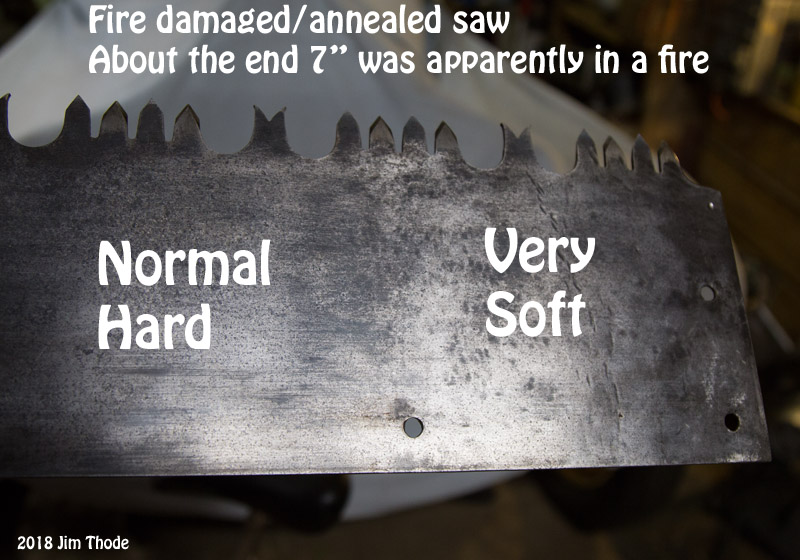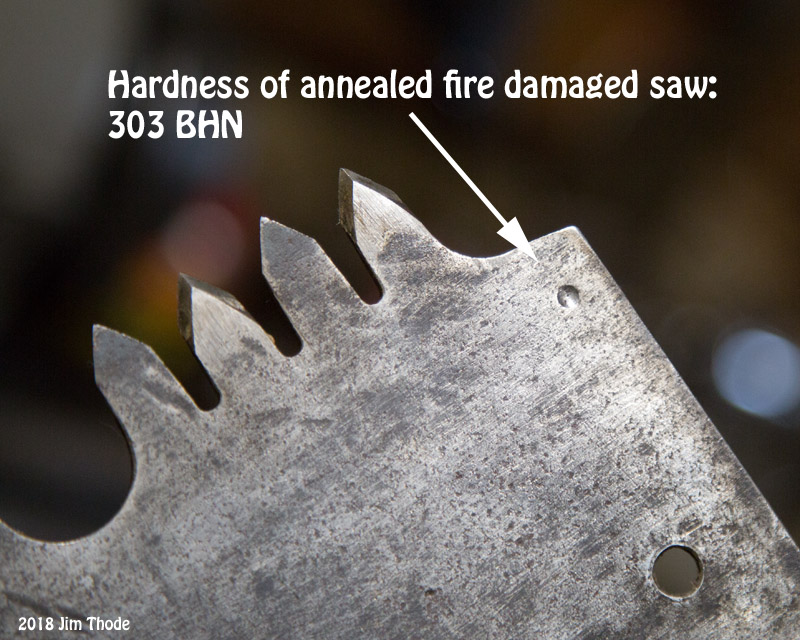 This was another test. Someone suggested that a saw that was tempered too soft could be hardened by heating to 500F and letting air cool. I tried that and it had no effect on the hardness.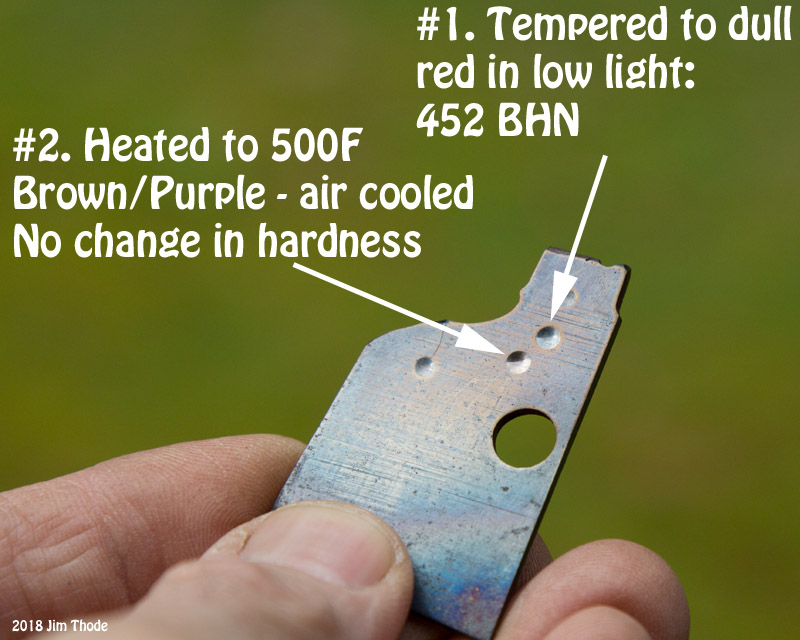 Jim